Welcome!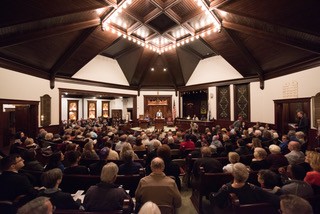 Our congregation is a dynamic and diverse community where newcomers are always invited to share our worship services, holiday celebrations, special events, and adult education classes. Temple B'nai Sholom has something for everyone.
Image credit: David Frost Photography
---
May 2020 Update on Coronavirus and Temple B'nai Sholom

Dear TBS family,

Nothing is more important than the health and safety of our congregation. Therefore, the Temple will remain closed to the public through the end of May; if the Covid-19 situation improves significantly, the soonest that in-person events at the Temple could restart would be May 19. Which is why we hope you're paying attention to the weekly TBS email and the Private Temple Member Facebook Group. Temple emails and the Private Facebook Group for Temple Members are the most direct and immediate means we utilize to keep you informed, especially nowadays as the Coronavirus situation is a fluid one.

We sincerely appreciate your patience, flexibility, and willingness to engage with the community via Rabbi Berk's Zoom programming. (And as a reminder, the Rabbi remains available to you by Zoom, Skype, FaceTime, Text, Email, and old-fashioned phone.)

Finally, if you are someone who lives alone, or someone who is in frail health -- and you get sick, please consider informing us at Temple, through Abby in the office, at bnaisholom.al@gmail.com, so we can respond appropriately.

Let us be reminded that our responsibility is not only to ourselves, but to all of those whose risk can be minimized by our precautions. Thank you for your commitment to keeping our community safe. Your health and well-being remain our primary concern.

The Temple B'nai Sholom Executive Committee
and
Rabbi Eric M. Berk
Thu, May 28 2020
5 Sivan 5780
Shabbat Services Friday 7pm
Thu, May 28 2020 5 Sivan 5780