Welcome!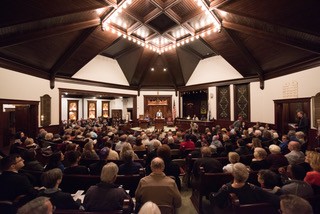 Our congregation is a dynamic and diverse community where newcomers are always invited to share our worship services, holiday celebrations, special events, and adult education classes. Temple B'nai Sholom has something for everyone.
Image credit: David Frost Photography
---

Dear TBS family,

As of now: there will be no in-person events at Temple through the end of April. The Temple is closed to the public through the end of April. Given that we have been advised to limit gatherings to less than ten people for eight weeks: Worship Services and Programs at TBS, through the end of April, will only be live-streamed and not in-person.
However, we will continue to re-evaluate the situation and if it changes, we'll change our approach.
Please know that Rabbi Berk is available to meet your pastoral, spiritual, and communal needs. Be sure to contact the Temple if we can be of help to you in any way. We sincerely apologize for the inconvenience and frustration, and ask for your patience and support as we determine the details of how TBS life, including opportunities for prayer, learning and service, will move forward. Remember, putting your health and safety first is a very Jewish way to live.
All in-person events starting March 18, 2020 through the end of April will either be canceled, postponed, broadcast by Zoom, and/or by live-streaming on Facebook Live. Please check your email and Facebook as details become available. Everything below is subject to change, as the situation is constantly evolving.
Finally, if you are someone who lives alone, or someone who is in frail health -- and you get sick, please consider informing us at Temple, through Abby in the office, so we can respond appropriately. We will do our best to do what we can for you.
Let us be reminded that our responsibility is not only to ourselves, but to all of those whose risk can be minimized by our precautions. Thank you for your commitment to keeping our community safe. Shabbat Shalom, may this be a Shabbat of peaceful wholeness, for you and yours.
-- The Temple B'nai Sholom Board and Rabbi Eric M. Berk
Tue, April 7 2020
13 Nisan 5780
Shabbat Services Friday 7pm
Tue, April 7 2020 13 Nisan 5780